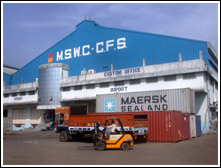 We Scientifically Store Agricultural Produce and inputs such as Food grains, Pulses, Seeds, Chilly, Turmeric, Onions, Pickles, Jaggery, Sugar, Milk Powder, Cotton bales etc; and Industrial Materials such as Cement, Fertilizers, Chemicals, Plastic Granules and Other Notified Commodities, etc.
All warehouses have Insurance Cover against Fire,Riot ,Strike & Malacious Damages (RSMD), Storm, Tempest, Flood and Inundation (STFI).
We provide Handling & Transportation to Depositors if requested, through our Approved contractors.
We undertake construction of godowns on Turnkey basis for various clients.
We provide Custom Bonded Warehouses at important Trading centres of Maharashtra to Importers.
This enables Importers to facilitate custom duty as per convenience.
Maharashtra State Warehousing Corporation
583/B, Market Yard, Gultekadi, Pune – 411037
Maharashtra, India.
+91 020 24206800, +91 02024262951
mswcinfo@mswarehousing.com